Home>Snowboard
> Organize an outing on ski or snowboard
Snowboard
Snowboarding in Val d'Isère
In snowboarding, the first hours are the most important : you must quickly learn how to have a…
– Good basis
– Good foundations
– Proper attitude
and then, you will quickly improve.
From the first curves on gentle slopes for beginners, to free-ride for experts, you'll discover Val d'Isere and Tignes's open and secret places and you'll enjoy new and exiting thrills.
If you are a beginner, if you want to improve your rides, if you want to find the perfect carve, come and join me in the Espace Killy. I 'll adapt myself to your needs, in good humour and still acting always as a professional.
Rates: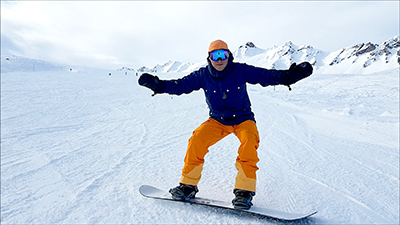 Number of people        1-2 people.   3-4 people.   5-6 people.
Full Day……………………… 500 €            550 €            600 €
Morning (9am to 1 pm)….. 380 €            410 €            440 €
Afternoon (2 to 4 :30 pm). 220 €            260 €            300 €
Options : SD cards with photos and video 30 €
For all other inquiries please contact me: > Send a request
Rates and conditions
A 30% deposit via bank transfer will be necessary to confirm your booking.
As soon as I receive this I can confirm your reservation.
If you cancel your reservation 3 weeks prior to the reserved dates, your 30 % will be handed back to you.
In case the weather is bad, I am the one who will make the final decision to cancel one or more days. Cancelled days will be refunded.