Home>Paragliding Offers
> > Organize an outing on paragliding
Paragliding Offers
In summer and in winter, I can take you for a tandem flight. Come and enjoy free flight to discover Val d'Isere from a new angle.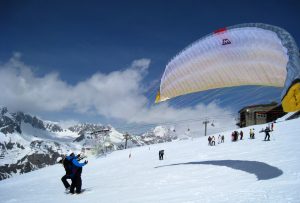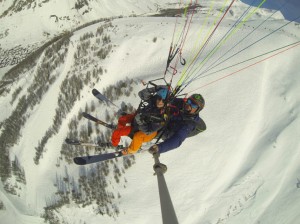 Winter :
Snow covers the mountains and its forests, the view is unique.
In summer, flying conditions are smooth and tandem flights are great: discover Val d'Isere from the sky!
Taking off with skis is easier than in summer. I'm a state licensed instructor and I'll be waiting for you.
Rates:
Kids (flight of 10 minutes)…………………………………… 70 €
Adults (flight of 10 minutes)………………………………… 120 €
Thermals flight (flight of 30 minutes and more)* …….. 180 €
*free videos and photos
Add 30 € and you'll have tour flight's video and photos
The given length of flight is approximate since we depend on weather conditions.